Kevin Yuqi Wang, MD
Neuroradiology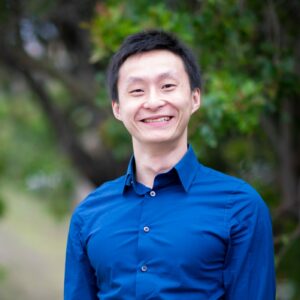 Education
Medical School: Johns Hopkins University School of Medicine – Baltimore, MD
Internship
Preliminary Internal Medicine: Santa Barbara Cottage Hospital – Santa Barbara, CA
Residency
Diagnostic Radiology: Baylor College of Medicine – Chief Resident – Houston, TX
Fellowship
Neuroradiology Fellowship: Stanford University Hospital and Clinics – Palo Alto, CA
Board Certification
American Board of Radiology
Publications & Presentations
T Hui H, Tang YG, Zhu L, Khoury N, Hui Z, Wang KY, Perfetti R, Go VLW. Glucagon like peptide-1-directed human embryonic stem cells differentiation into insulin-producing cells via hedgehog, cAMP, and PI3K pathways. Pancreas. Apr 2010;39(3):315-322.
Yu Y, Fuscoe JC, Zhao C, Guo C, Jia M, Qing T, Bannon D, Lancashire L, Bao W, Du T, Luo H, Su Z, Jones W, Moland C, Branham W, Qian F, Ning B, Li Y, Hong H, Guo L, Mei N, Shi T, Wang KY, Wolfinger R, Nikolsky Y, Walker S, Duerksen-Hughes P, Mason C, Tong W, Thierry-Mieg J, Thierry-Mieg D, Shi L, Wang C. A rat RNA-Seq transcriptomic BodyMap across 11 organs and 4 developmental stages. Nature Communications. 2014;5:3230.
Wang KY, Singer H, Crain B, Gujar S, Lin DDM. Hypoxic-ischemic encephalopathy mimicking acute necrotizing encephalopathy. Pediatric Neurology. Jan 2015;52(1);110-114.
Orman G, Wang KY, Thompson C, Pryde S, Huisman T, Izbudak I. Brief communication: diffusion tensor imaging of the cervical spinal cord in children. Child's Nervous System. Aug 2015;31(8):1239-1245.
Wang KY, Barker PB, Lin DDM. A case of acute onset succinic semialdehyde dehydrogenase deficiency: neuroimaging findings and literature review. Child's Nervous System. Jul 2016;32(7):1305-9.
Wang KY, Idowu O, Thompson C, Orman G, Myers C, Lee RH, Carrino JA, Flammang A, Gilson W, Sadowsky CL, Izbudak I. Tract-specific diffusion tensor imaging in cervical spondylotic myelopathy before and after decompressive spinal surgery: preliminary results. Clinical Neuroradiology. 2017;27(1):61-69.
Wang KY, Idowu O, Lin DDM. Chapter 24 – Radiology and imaging for cavernous malformations. In: Spetzler, R, Almefty R, Moon K, eds. Handbook of Clinical Neurology. 2017;143:249-266.
Wang KY, Idowu O, Izbudak, I. Influence of control data on diffusion tensor imaging in cervical spondylotic myelopathy. Remedy Open Access. Mar 2017;2:1047.
Orman G, Wang KY, Pekcevik Y, Thompson C, Mealy M, Levy M, Izbudak I. Enhancing brain lesions during acute optic neuritis and/or longitudinally extensive transverse myelitis may portend a higher relapse rate in neuromyelitis optica spectrum disorders. American Journal of Neuroradiology. May 2017;38(5):949-953.
Harrison DM, Wang KY, Fiol J, Naunton K, Royal W, Hua J, Izbudak I. Leptomeningeal enhancement at 7T in multiple sclerosis: frequency, morphology, and relationship to cortical volume. Journal of Neuroimaging. Sep 2017;27(5):461-468.
Pohlen M, Lin JS, Wang KY, Rad MG, Lincoln CM. Hemorrhagic conversion of infectious myelitis in an immunocompromised patient. BMJ Case Reports. Dec 2017;2017.
Wang KY, Yen CJ, Chen MM, Variyam D, Acosta TU, Reed B, Wintermark M, Lincoln CM. Reducing inappropriate lumbar spine magnetic resonance imaging for low back pain: Radiology support, communication and alignment network. Journal of American College of Radiology. Jan 2018;15(1):116–122.
Wang KY, Vankov E, Lin DDM. Predictors of clinical outcome in pediatric oligodendroglioma: individual patient data meta-analysis and multiple imputation. Journal of Neurosurgery: Pediatrics. Feb 2018;21(2):153-163.
Castro C, Wang KY, Teniola O, Lenge De Rosen V. Streptococcus mutans native pulmonary valve endocarditis complicated by septic pulmonary emboli. Journal of Radiology Case Reports. Feb 2018;12(2):18-27.
Teniola O, Wang KY, Wang W, Tseng W, Amini B. Imaging of liposarcomas: characteristic features and differential considerations. Journal of Surgical Oncology. May 2018;117(6):1195-1203.
Mu W, Cordner ZA, Wang KY, Reed K, Robinson G, Mitchell S, Lin DDM. Characterization of pulmonary arteriovenous malformations in ACVRL1 versus ENG mutation carriers in hereditary hemorrhagic telangiectasia. Genetics in Medicine. Jun 2018;20(6):639-644.
Wang KY, Chetta J, Bains P, Balzer A, Lincoln J, Uribe T, Lincoln CM. Spectrum of brain MRI findings in neuromyelitis optica spectrum disorder: a pictorial review. British Journal of Radiology. Jun 2018;91(1086):20170690.
Wang KY, Uribe T, Lincoln CM. Comparing lesion detection of infratentorial multiple sclerosis lesions between T2-weighted spin-echo, 2D-FLAIR, and 3D-FLAIR sequences. Clinical Imaging. Sep-Oct 2018;51:229-234.
Rad MG, Wang KY, Jain S, Lincoln CM. Solitary fibrous tumor of the thyroid: a case report with literature review. Clinical Imaging. Jan-Feb 2019;53:105-107.
Wang KY, Kim, DH, Xu Y, Rad MG, Lincoln CM. Papillary cystadenocarcinoma of the parotid gland: high grade features and literature review. Oman Medical Journal. Mar 2019;34(2):63-67.
Chong I, Wang KY, Lincoln CM. Cryptococcal meningitis in a patient with multiple sclerosis treated with fingolimod. Clinical Imaging. Mar-Apr 2019;54:53-56.
Wang KY, Lincoln CM, Chen MM. Radiology support, communication, and alignment network and its role to promote health equity in the delivery of radiology care. Journal of American College of Radiology. Apr 2019;16(4):638-643.
Wang KY, Rad MG, Arsene C, David D. Substernal mass: a rare presentation of hepatocellular carcinoma. Oman Medical Journal. Nov 2019;34(6):560-563.
Wang KY, Chen MM, Lincoln CM. Adult primary brain neoplasms. In: Bello, JA, Slasky SE, eds. Radiology Clinics of North America. Nov 2019;57(6):1147-1162.
Wang KY, Chitagi P, Rad MG. Isolated absence of the right pulmonary artery with coexisting left-sided heart failure: case report and literature review. Clinical Imaging. Nov-Dec 2019;58:12-14.
Wang KY, Carlton J, Guffey D, Hutton GJ, Moron FE. Histogram analysis of apparent diffusion coefficient and fluid-attenuated inversion recovery in discriminating between enhancing and nonenhancing lesions in multiple sclerosis. Clinical Imaging. Jan 2020;59(1):13-20.
Wang KY, Hirsch J, Nicola G, Golding L, Lee R, Chen MM. Implications of the revisions and revaluation of office/outpatient evaluation and management codes for neuroradiology reimbursement. American Journal of Neuroradiology. Jul 2020;41(7):1160-1164.
Cooc A, Chong I, Wang KY, Jiang K, Lincoln CM. Papillary thyroid carcinoma metastasis to a branchial cleft cyst: a case report and review of imaging. Clinical Imaging. Aug 2020;64:1-6.
Wang KY, Jadhav SJ, Yenduri NS, Lee SA, Farber HJ, Guillerman RP. Imaging features of e-cigarette or vaping product use associated lung injury in the pediatric population: an institutional cases series. Pediatric Radiology. Aug 2020;50(9):1231-1239.
Alexander N*, Wang KY*, Jiang K, Ongkasuwan J, Lincoln CM. Volumetric analysis of vocal folds in the healthy population using computed tomography. The Laryngoscope. Jan 2021;131(1):240-247. *Joint first authorship
Wang KY, Chen MM, Lincoln CM. Adult primary brain neoplasms. In: Holodny, AI, eds. Neuroimaging Clinics of North America. Feb 2021;31(1):121-138.
Rego E, Abdelmeguid A, Wang KY, Dewan K. An uncommon cause of dysphagia: post-pneumonectomy syndrome. Case Reports in Otolaryngology. Mar 2021;vol 2021, article ID 6658690.
Lee SA, Yenduri NS, Sayad E, Wang KY, Guillerman RP, Farber HJ. Improvement in pulmonary function following discontinuation of vaping or e-cigarette use in adolescents with EVALI. Pediatric Allergy, Immunology and Pulmonology. Mar 2021;34(1):23-29.
Wang KY, Chong I, Consul N, Lincoln CM. To sustain or not to sustain: Varying educational sessions on advanced imaging of low back pain and R-SCAN. Current Problems in Diagnostic Radiology. Nov-Dec 2021;50(6):774-778.
Wang KY, van Staalduinen EK, Zaharchuk G. Chapter 14 – Perfusion MRI: clinical perspectives. In: Choi I, Jezzard P, eds. Advanced Neuro MR Techniques and Applications. 2021;4:211-228
Wang KY, Wintermark M, Penta M. Imaging characteristics of Sjogren syndrome. Clinical Imaging. Dec 2022;92:7-18.
Distinctions & Awards
RSNA-ARRS Introduction to Academic Radiology Award
RSNA Roentgen Resident/Fellow Research Award
AUR-ACR Research Scholar Award
ACR Radiology Leadership Institute Leadership Summit Scholarship
ACR E. Stephen Amis, Jr., MD, Fellowship in Quality and Safety
ACR James M. Moorefield, MD, Fellowship in Economics and Health Policy
TRS Guiberteau Award for Resident Excellence Honoree
TRS 106th Annual Meeting Audience Favorite Poster
AOA Honor Medical Society, BCM Beta Chapter
BCM Department of Radiology Honorary Medical Physicist
BCM Department of Radiology Naresh Prasad Scholar Award
BCM Department of Radiology Program Director's Award
BCM Center for Professionalism Power of Professionalism Award
Personal Interests
In his free time, Dr. Wang enjoys taking in the many different offerings of Southern California.