Hieu Truong, MD
Musculoskeletal and Nuclear Radiology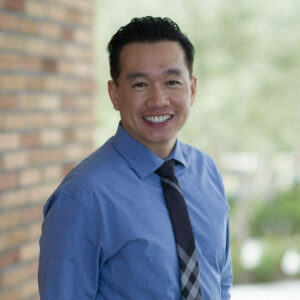 Education
Medical School: University of California San Francisco – San Francisco, CA
Internship
Internal Medicine: UCLA Medical Center – Los Angeles, CA
Internal Medicine: St. Mary Medical Center – Long Beach, CA
Residency
Diagnostic Radiology: UCLA Medical Center– Chief Resident – Los Angeles, CA
Fellowship
MRI Musculoskeletal Fellowship: University of Southern California – Emphasis on Neuroradiology – Los Angeles, CA
PET-CT and Nuclear Medicine Fellowship: UCLA Medical Center – Los Angeles, CA
Board Certification
American Board of Radiology
Publications & Presentations
MRI Findings in Biceps Tendon Tears
Clinical review of MRI findings in tears and ruptures of the long head of the biceps tendon.
Femoral Neck Fractures
Review article on diagnosis, classification, and treatment of femoral neck fractures. May 2003, eMedicine Journal.
Vascular Embolic Agents
Review of existing embolic agents used in interventional procedures, and identifying new agents soon to be released.
Research in Otolaryngology,UCSF
Investigated the feasibility of modifying the current House-Brackmann facial nerve grading system to produce a more clinically relevant classification scheme.
Magnetic Resonance Science Center, UCSF
Investigated the utility of Magnetic Resonance Spectroscopy (MRS) in the detection of brain tumors, especially when used in conjunction with Positron Emission Tomography
Center for the Neurobiology of Learning and Memory, UC Irvine Characterized the role of the nucleus of the solitary tract in the modulation of learning and memory.
Skripkus U, Truong H, Wang E, Nguyen K, Suh R, Zucker M, Lufkin R. Variance between Resident and Attending Readings of Nightcall Coverage: A Review of 15,976 Cases. Presented at American Society of Emergency Radiology (ASER) 14111 Annual Scientific Meeting, Oct 2003.
Truong HT and Gentili A. Femoral Neck Fractures. eMedicine Journal, May 2003.
Truong HT, Masih S, Huang J, Gentili A. MR Imaging in Biceps Tendon Tears. Computer exhibit at ARRS Annual Meeting, 2003.
Margolis DJ, Truong HT, Gentry M, Kaplan A, Suh R. Use of Handheld Computers for Assurance of Residency Accreditation and Improved Resident Productivity. RSNA infoRAD exhibit, Nov 2002.
Distinctions & Awards
Physician of Excellence 2018-2023 Orange Coast Magazine
Vice Chairman Department of Radiology – St . Joseph Hospital
CFO Moran Rowen & Dorsey Inc.
Director of Nuclear Medicine – St. Joseph Hospital
Chief Resident, UCLA Department of Radiological Sciences
Outstanding Graduating Senior Resident Award, UCLA Department of Radiology
Bachelor of Science with highest honor (Summa Cum Laude) and Phi Betta Kappa UC Irvine
University of California Regents' Scholarship to UCLA and UC Irvine
Introduction to Research Award sponsored by RSNA, AARS, and AUR
UCSF Dean's Summer Research Fellowship
Jane Unzelman Scholarship for recognition of academic excellence and service to the School and community, UC Irvine
Biological Sciences Scholastic Honor Society, UC Irvine
Dean's Academic Achievement and Service Award, UC Irvine
Dean's Honors List, all academic terms, UC Irvine
University of California Alumni Scholarship to UC Berkeley
Robert C. Byrd Scholarship
Elks National Foundation First Place Regional Scholarship
Elks Foundation National Allocated Scholarship
Daughters of the American Revolution Good Citizen Scholarship
Orange County Centennial Scholarship
Greater Santa Ana Chamber of Commerce Scholarship
UNISYS Scholarship
Personal Interests
Dr. Hieu Truong has been with MRD since 2004 and serves as a staff radiologist and is on the MRD Board of Directors. When not working, Dr. Truong loves spending time and exploring the world with his wife and two girls.